Everything you need for October 29 online worship.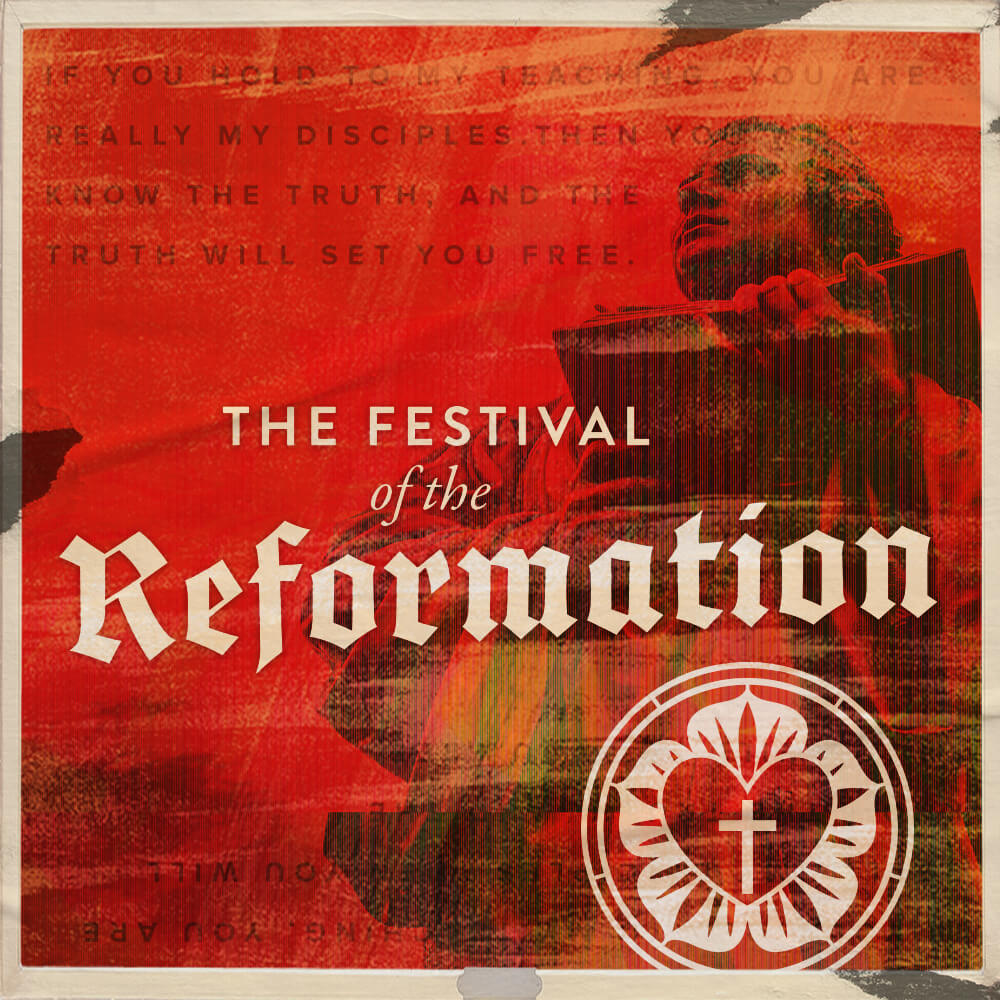 Preparations for Worship:
Do your best to eliminate distractions like the phone, TV, etc.
Worship actively! Whether you are by yourself or with others, try reading the parts of the service aloud (responses, lessons, and prayers).
This service is for children too. Help them participate. Ask those who have that ability to read a prayer or lesson aloud. Take a moment to describe what's happening. Ask questions. Encourage little ones to draw what they are hearing while you all listen. Unlike our more typical Sunday worship at church, you can pause at any time for questions and discussion.
Before you begin, load each of the videos below. (You might first have to get past a distracting ad.)
Pause for a moment of quiet meditation. Then pray:
"Heavenly Father, I have come to worship you. Draw near to me in your gracious Word, and assure me of your loving kindness. Curb my wandering thoughts, that with undivided attention I may hear your voice and speak your praise. Through Jesus Christ. Amen."
GATHERING RITE
In the name of the Father and of the T Son and of the Holy Spirit.
Amen.
Brothers and sisters in Christ, in this Reformation service God again delivers to us love and forgiveness, power to be his people, and resolve to share his precious gospel of forgiveness with all people.
We are not ashamed of the gospel.
…you were dead in your transgressions and sins, in which you used to live when you followed the ways of this world and of the ruler of the kingdom of the air….But because of his great love for us, God, who is rich in mercy, made us alive with Christ even when we were dead in transgressions — it is by grace you have been saved.
The gospel is the power of God for my salvation.
[Jesus] told them, "This is what is written: The Christ will suffer and rise from the dead on the third day, and repentance and forgiveness of sins will be preached in his name to all nations, beginning at Jerusalem. You are witnesses of these things.
The gospel is the power of God for the salvation of everyone who believes.
When our Lord and Master Jesus Christ said "Repent," he willed that the whole life of believers should be repentance.
The gospel is the power that caused the Reformation.
So I find this law at work: When I want to do good, evil is right there with me. For in my inner being I delight in God's law; but I see another law at work in the members of my body, waging war against the law of my mind and making me a prisoner of the law of sin at work within my members. What a wretched man I am! Who will rescue me from this body of death? Thanks be to God — through Jesus Christ our Lord!
The gospel is the power that overcomes the devil, the world, and our own sinful weakness.
[Jesus said], If anyone is ashamed of me and my words in this adulterous and sinful generation, the Son of Man will be ashamed of him when he comes in his Father's glory with the holy angels."
We are not ashamed of the gospel.
For God did not give us a spirit of timidity, but a spirit of power, of love and of self-discipline. So do not be ashamed to testify about our Lord, or ashamed of me his prisoner. But join with me in suffering for the gospel, by the power of God, who has saved us and called us to a holy life — not because of anything we have done but because of his own purpose and grace.
We are not ashamed of the gospel. We will testify about our Lord and his mighty deeds.
Beloved in the Lord, we are not ashamed of the gospel. And yet sometimes we live and act as if we are ashamed. Let us repent of our sins, rejoice in the comfort of God's abundant pardon, and recommit ourselves to the tasks he gives us.
For apathy in our mission of proclaiming your Good News.
Lord, have mercy on us.
For taking your precious Word and Sacraments for granted.
Christ, have mercy on us.
For failure to advance your work with generous gifts of treasure time and talent.
Lord, have mercy on us.
Silence for reflection
Holy and merciful Father,
I confess that I am by nature sinful and that I have disobeyed you in my thoughts, words, and actions. I have done what is evil and failed to do what is good. For this I deserve your punishment both now and in eternity. But I am truly sorry for my sins, and trusting in my Savior Jesus Christ, I pray: Lord, have mercy on me, a sinner.
God, our heavenly Father, has been merciful to us and has given his only Son to be the atoning sacrifice for our sins. Therefore, as a called servant of Christ and by his authority, I forgive you all your sins in the name of the Father and of the Son and of the Holy Spirit.
Amen.
LESSON – DANIEL 6:10-12, 16-23
10Now, when Daniel learned that the document had been signed, he went to his house. It had windows on its upper story that opened toward Jerusalem. Three times each day he would get on his knees and pray and offer praise before his God. He continued to do that, just as he had been doing before this. 11Then these men came as a group and found Daniel praying and seeking favor from his God.  12They then went and asked the king about the decree. "Your Majesty, did you not sign a decree that anyone who prays to any god or person for thirty days except to you, Your Majesty, would be thrown into the den of lions?"  The king answered, "Indeed I did. The order is established as a law of the Medes and the Persians that cannot be revoked."  16Then the king gave the order, and Daniel was brought and thrown into the lions' den. The king said to Daniel, "May your God, whom you serve continually, rescue you." 17A stone was brought and placed over the mouth of the pit. The king sealed it with his signet ring and the signet rings of his nobles so that nothing could be changed with regard to Daniel's situation. 18Then the king went to his palace. He spent the night without food, and no entertainment was brought before him. But he could not sleep.  19At dawn the king arose as soon as it was light and hurried to the lions' den. 20As he came near the pit, he cried out in a fearful voice. The king said to Daniel, "Daniel, servant of the living God, was your God, whom you serve continually, able to rescue you from the lions?"  21Then Daniel spoke with the king. "Your Majesty, may you live forever! 22My God sent his angel and shut the mouth of the lions. They have not hurt me because he found me innocent in his presence. Also before you, Your Majesty, I have committed no crime."  23Then the king was very glad and said that Daniel should be brought up from the pit. So Daniel was brought up from the pit, and he was unharmed because he trusted in his God.
LESSON – ROMANS 3:19-28
19Now we know that whatever the law says is addressed to those who are under the law, so that every mouth will be silenced and the whole world will be subject to God's judgment. 20For this reason, no one will be declared righteous in his sight by works of the law, for through the law we become aware of sin.  21But now, completely apart from the law, a righteousness from God has been made known. The Law and the Prophets testify to it. 22This righteousness from God comes through faith in Jesus Christ to all and over all who believe.  In fact, there is no difference, 23because all have sinned and fall short of the glory of God 24and are justified freely by his grace through the redemption that is in Christ Jesus, 25whom God publicly displayed as the atonement seat through faith in his blood. God did this to demonstrate his justice, since, in his divine restraint, he had left the sins that were committed earlier unpunished. 26He did this to demonstrate his justice at the present time, so that he would be both just and the one who justifies the person who has faith in Jesus.  27What happens to boasting then? It has been eliminated. By what principle—by the principle of works? No, but by the principle of faith. 28For we conclude that a person is justified by faith without the works of the law.
DEVOTION – MATTHEW 10:16-23
APOSTLES' CREED
I believe in God, the Father almighty, maker of heaven and earth.
I believe in Jesus Christ, his only Son, our Lord, who was conceived by the Holy Spirit, born of the virgin Mary, suffered under Pontius Pilate, was crucified, died, and was buried. He descended into hell. The third day he rose again from the dead. He ascended into heaven and is seated at the right hand of God the Father almighty. From there he will come to judge the living and the dead.
I believe in the Holy Spirit, the holy Christian Church, the communion of saints, the forgiveness of sins, the resurrection of the body, and the life everlasting.  Amen.
OFFERING
Offerings may be given on-line at tithe.ly/risensavior, mailed to the church, or dropped off at the church.
Our members have joined together in faith and love to do the Lord's work in this community and around the world. Guests need not feel obligated to participate in this offering which supports our ministry.
PRAYER OF THE CHURCH
Mighty Fortress, Rock of refuge, sustain Your Church.
Deliver her from error and preserve in her the proclamation of Your Gospel, that it would resound to every nation, tribe, people and language and that all may fear and give You glory.
Mighty Fortress, Rock of refuge, bless all ministers of Your Word.
Help them rightly to preach Your Law so that all are held accountable to You without excuse and joyfully proclaim Your Gospel, that all would know Jesus Christ as their Savior.
Mighty Fortress, Rock of refuge, look with compassion on all who are blind to the bondage of their sin.
Open their eyes by the words of Jesus, and grant them the true freedom of sonship and a permanent place in Your household.
Mighty Fortress, Rock of refuge, bless all civil authorities, especially our president; Congress; and all who make, administer and judge our laws.
Protect them from the temptations that beset their offices, and grant them wisdom and courage to serve with integrity.
Mighty Fortress, Rock of refuge, be near to all who cry to You for healing of body and soul.
Grant them release from their afflictions according to Your will. Sustain their hope in the full and final healing that awaits them at the day of Christ's appearing.
Dear God of love and grace, please bless WELS Prison Ministry as they seek pen pals to share the good news of Jesus with inmates. Also, bless their efforts to reach souls through gospel booklets.
Guide the training of individuals who, in Christ's name, will visit prisoners and mentor those who are being released. We ask, Lord, that you raise up volunteers to fill these important roles.
Mighty Fortress, Rock of refuge, we give You thanks for all Your servants who have departed this life in faith. We especially bless You today for the great reformers of Your Church who call us back to the Gospel and to the righteousness we have in Christ alone. Keep us in fellowship with them, and bring us at last to our heavenly home to see our Redeemer face to face; through the same Jesus Christ, Your Son, our Lord, who taught us to pray…
Our Father, who art in heaven, hallowed be thy name, thy kingdom come, thy will be done on earth as it is in heaven.  Give us this day our daily bread; and forgive us our trespasses, as we forgive those who trespass against us; and lead us not into temptation, but deliver us from evil.  For thine is the kingdom and the power and the glory forever and ever.  Amen.
O Lord God, our heavenly Father, pour out the Holy Spirit on your faithful people. Keep us strong in your grace and truth, protect and comfort us in all temptation, and bestow on us your saving peace, through Jesus Christ, our Lord, who lives and reigns with you and the Holy Spirit, one God, now and forever.
LORD'S BLESSING
The Lord bless you and keep you.
The Lord make his face shine on you and be gracious to you.
The Lord look on you with favor and T give you peace.
Amen.
---