Everything you need for May 21 online worship.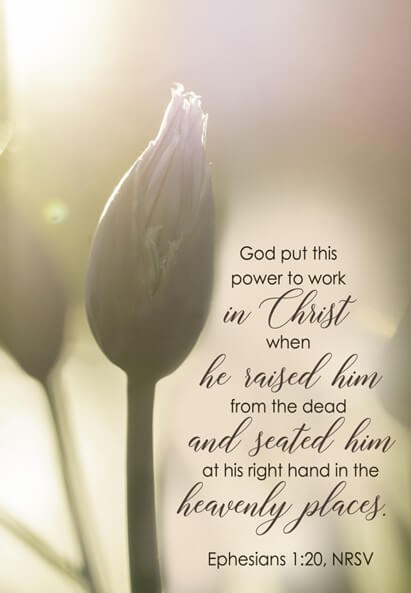 Preparations for Worship:
Do your best to eliminate distractions like the phone, TV, etc.
Worship actively! Whether you are by yourself or with others, try reading the parts of the service aloud (responses, lessons, and prayers).
This service is for children too. Help them participate. Ask those who have that ability to read a prayer or lesson aloud. Take a moment to describe what's happening. Ask questions. Encourage little ones to draw what they are hearing while you all listen. Unlike our more typical Sunday worship at church, you can pause at any time for questions and discussion.
Before you begin, load each of the videos below. (You might first have to get past a distracting ad.)
Pause for a moment of quiet meditation. Then pray:
"Heavenly Father, I have come to worship you. Draw near to me in your gracious Word, and assure me of your loving kindness. Curb my wandering thoughts, that with undivided attention I may hear your voice and speak your praise. Through Jesus Christ. Amen."
CONFESSION OF SINS
In the name of the Father and of the Son and of the Holy Spirit.
Amen.
If we claim to be without sin, we deceive ourselves and the truth is not in us.
If we confess our sins, God is faithful and just and will forgive us our sins and purify us from all unrighteousness.
Let us confess our sins to the Lord.
Holy God, gracious Father, I am sinful by nature and have sinned against you in my thoughts, words, and actions. I have not loved you with my whole heart; I have not loved others as I should. I deserve your punishment both now and forever. But Jesus, my Savior, paid for my sins with his innocent suffering and death. Trusting in him, I pray: God, have mercy on me, a sinner.
Our gracious Father in heaven has been merciful to us. He sent his only Son, Jesus Christ, who gave his life as the atoning sacrifice for the sins of the whole world. Therefore, as a called servant of Christ and by his authority, I forgive you all your sins in the name of the Father and of the Son and of the Holy Spirit.
Amen.
In peace let us pray to the Lord.
Lord have mercy.
For the peace from above and for our salvation, let us pray to the Lord.
Lord, have mercy.
For the peace of the whole world, for the well-being of the Church of God, and for the unity of all, let us pray to the Lord.
Lord, have mercy.
For this holy house and for all who offer here their worship and praise, let us pray to the Lord.
Lord, have mercy.
Help, save, comfort, and defend us, gracious Lord.
Amen.
PRAYER OF THE DAY
Lord Jesus, King of glory, on this day you ascended far above the heavens, and at God's right hand you rule the nations. Leave us not alone, we pray, but grant us the Spirit of truth that, at your command and by your power, we may be your witnesses in all the world; for you live and reign with the Father and the Holy Spirit, one God, now and forever.
Amen.
LESSON – ACTS 1:1-11
I wrote my first book, Theophilus, about everything Jesus began doing and teaching 2until the day he was taken up, after he had given instructions through the Holy Spirit to the apostles he had chosen. 3After he had suffered, he presented himself alive to the apostles with many convincing proofs. He appeared to them over a period of forty days and told them things about the kingdom of God.
4Once, when he was eating with them, he commanded them, "Do not depart from Jerusalem, but wait for what the Father promised, which you heard from me. 5For John baptized with water, but you will be baptized with the Holy Spirit not many days from now."
6So when they were together with him, they asked, "Lord, is this the time when you are going to restore the kingdom to Israel?"
7He said to them, "It is not for you to know the times or seasons that the Father has set by his own authority. 8But you will receive power when the Holy Spirit has come upon you, and you will be my witnesses in Jerusalem, in all Judea and Samaria, and to the ends of the earth." 9After he said these things, he was taken up while they were watching, and a cloud took him out of their sight. 10They were looking intently into the sky as he went away. Suddenly, two men in white clothes stood beside them. 11They said, "Men of Galilee, why are you standing here looking up into the sky? This same Jesus, who has been taken up from you into heaven, will come back in the same way you have seen him go into heaven."
GOSPEL – LUKE 24:44-53
44He said to them, "These are my words that I spoke to you while I was still with you: Everything must be fulfilled that is written about me in the Law of Moses, the Prophets, and the Psalms." 45Then he opened their minds to understand the Scriptures. 46He said to them, "This is what is written and so it must be: The Christ will suffer and rise from the dead on the third day, 47and repentance and forgiveness of sins will be preached in his name to all nations, beginning from Jerusalem. 48You are witnesses of these things. 49Look, I am sending you what my Father promised. But stay in the city until you are clothed with power from on high."  50He led them out as far as the vicinity of Bethany. He lifted up his hands and blessed them. 51And while he was blessing them, he parted from them and was taken up into heaven. 52So they worshipped him and returned to Jerusalem with great joy. 53They were continually in the temple courts, praising and blessing God.
DEVOTION – EPHESIANS 1:15-23
CONFESSION OF FAITH – NICENE CREED
We believe in one God, the Father, the Almighty, maker of heaven and earth, of all that is, seen and unseen.
We believe in one Lord, Jesus Christ, the only Son of God, eternally begotten of the Father, God from God, Light from Light, true God from true God, begotten, not made, of one being with the Father. Through him all things were made. For us and for our salvation, he came down from heaven, was incarnate of the Holy Spirit and the virgin Mary, and became fully human. For our sake he was crucified under Pontius Pilate. He suffered death and was buried. On the third day he rose again in accordance with the Scriptures. He ascended into heaven and is seated at the right hand of the Father. He will come again in glory to judge the living and the dead, and his kingdom will have no end.
We believe in the Holy Spirit, the Lord, the giver of life, who proceeds from the Father and the Son, who in unity with the Father and the Son is worshiped and glorified, who has spoken through the prophets. We believe in one holy Christian and apostolic Church. We acknowledge one baptism for the forgiveness of sins. We look for the resurrection of the dead and the life of the world to come. Amen.
OFFERING
Offerings may be given on-line at tithe.ly/risensavior, mailed to the church, or dropped off at the church.
Our members have joined together in faith and love to do the Lord's work in this community and around the world. Guests need not feel obligated to participate in this offering which supports our ministry.
PRAYER OF THE CHURCH
O Lord, Your Son has ascended to sit at Your right hand until You make all enemies His footstool.
Fix our eyes on Him, ruling in the midst of His enemies, that we may have no fear of them but abide in His peace.
Heavenly Father, Your Son fulfilled everything written about Him in the Law of Moses, the prophets and the Psalms.
Open our minds to understand the Scriptures, that we may grow in faith, wisdom and knowledge of Christ.
Almighty God, You have raised Christ from the dead and seated Him at Your right hand in the heavenly places, far above all rule and authority and power and dominion.
Guide all such authorities on earth, that they govern wisely, operate with integrity and maintain peace after Your good pleasure.
Lord of the Church, we ask you to look with favor on our brothers and sisters in war-torn Ukraine. You know the challenges they are facing. Help them to overcome their fears as they make you their Refuge and Strength. We thank you for their steadfastness to carry out your mission.
We ask that you make known your name holy name and let your kingdom come to those who need the peace this world cannot give. We place them into your gracious care and protection.
God of mercy, You have sworn and will not change Your mind that Christ is our High Priest forever. Remember those who despair of forgiveness or of cleansing from guilt and shame.
Console them with the certainty of unending grace in the name of Jesus.
O Lord, heavenly Father, we gratefully remember the sufferings and death of Your dear Son, Jesus Christ, for our salvation. Rejoicing in His victorious resurrection from the dead, we draw strength from His ascension before You, where He ever stands for us as our own High Priest. Gather us together from the ends of the earth to celebrate with all the faithful the marriage feast of the Lamb in His kingdom, which has no end. Graciously receive our prayers, deliver and preserve us, for to You alone we give all glory, honor and worship.
Our Father, who art in heaven, hallowed be thy name, thy kingdom come, thy will be done on earth as it is in heaven. Give us this day our daily bread; and forgive us our trespasses, as we forgive those who trespass against us; and lead us not into temptation, but deliver us from evil. For thine is the kingdom and the power and the glory forever and ever. Amen.
THE LORD'S BLESSING
The Lord bless you and keep you. The Lord make his face shine on you and be gracious to you. The Lord look on you with favor and give you peace. Amen.
---